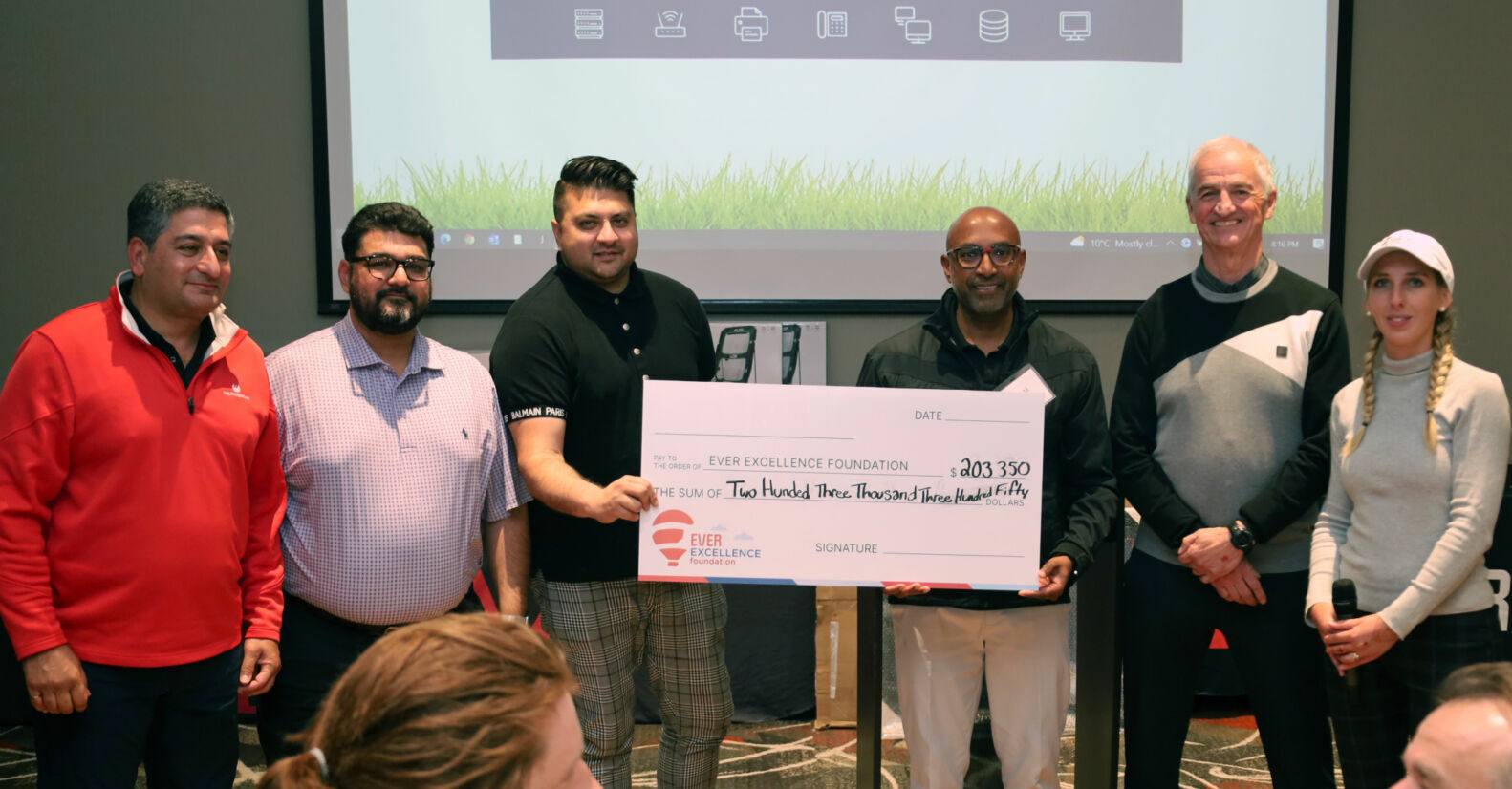 Celebrating the Launch of EVER Excellence Foundation
EVER Excellence Foundation launched publicly on Monday, September 19th with the mission to move the needle, one grant at a time, and extend our reach throughout our community and beyond. Through the combined efforts of event fundraising and contributions from business partners and individuals, seed capital of over $203,000 was raised at the inaugural EVER Excellence Golf Tournament.
EEF is an endowment fund established jointly by RE/MAX Excellence and EVER Real Estate Developments, with additional support from partnering businesses. At the Foundation launch, RE/MAX Excellence and EVER RED committed a $100,000 donation to start the Foundation on the best foot. Invited attendees had the opportunity to pledge additional funds at two club levels of ongoing commitment and become one of our founding supporters, and through them we received additional commitments totaling $97,500 over the next three years.
We are thrilled to have also raised over $13,950 from additional fundraising initiatives at the event.
Thank you to each supporter, event sponsor and attendee for helping us reach this tremendous achievement. To become a club member with EVER Excellence Foundation, please contact Danya LeBlanc, Chair, at danya.l@everred.ca for more information on how to support.
EVER Excellence Foundation
There are trees that need planting, students short on funding, and people who are hungry and quiet. There are not-for-profit groups holding awareness events, conducting essential research, and tackling head-on the interconnected, complex challenges we're facing in the world today.
We're going to help – these, and countless other causes in the years to come.
OUR VISION is to elevate and make a positive impact in three core areas: Our Neighborhood, Our Origin, and Our World. We are committed to causes that support laying foundations for a better future – including supporting education, professional associations, mental health; environmental groups, and global crisis; and grass roots, youth activity, and community connectivity.
OUR MISSION is to grow the fund with each of our developments as a contributing entity to the foundation; and to empower and support each team member, and every agent of Excellence to be a champion of the charitable initiatives in our communities.
WE BELIEVE in supporting the initiatives that matter to our clients, associates, business partners, and employees. We believe in advocacy and action, and that making an impact extends beyond financial contributions. Our team is invested in passionately sharing the vision of the charities we support and providing a helping hand where and when needed.
The Foundation is governed by a board, which today consists of Sam Narayan, President, Danya LeBlanc, Chair, and Shiva Narayan, Vice Chair. RE/MAX Excellence and EVER RED fund the administration and overhead costs of the Foundation so 100% of every dollar donated goes to support partnering charitable organizations who support and care for those most in need. The foundation will receive ongoing funds from EVER RED and RE/MAX Excellence as both companies grow.